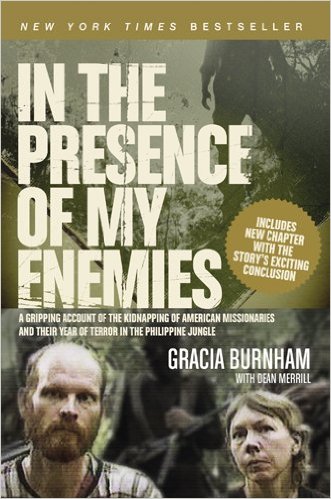 Price: $11.99
Book Details
Summary
For American missionaries Martin and Gracia Burnham, what started out as a relaxing, once-in-a-lifetime anniversary getaway at an exotic island resort turned into one of the most horrific nightmares imaginable.
Kidnapped by the Abu Sayyaf, a terrorist group with ties to Osama bin Laden, the Burnhams were snatched away from friends and family and thrust into a life on the run in the Philippine jungle. During a perilous year in captivity, they faced near starvation, constant exhaustion, frequent gun battles, coldhearted murder—and intense soul-searching about a God who sometimes seemed to have forgotten them.
In this gripping firsthand account of faith, love, and struggle in the face of unnervingly casual brutality, you'll go behind the scenes of a real-life drama, told in gritty detail by the least likely survivor. You'll learn about the methods and motives of a radical terrorist group whose members are determined to meet their objectives, no matter what the cost. You'll be inspired by the ultimately triumphant faith and enduring love of an ordinary couple thrown into extraordinarily difficult circumstances.
Whatever the struggles of your life, you'll find encouragement and hope in this refreshingly honest story of a yearlong struggle with the darkness that inhabits the human heart.
"The issue…is not why an all-powerful God might choose to subject a man to evil, but how a man, with God's help, responds to evil…The Burnhams, under torturous conditions, befriended their guards, comforted their fellow hostages and kept their faith in a God who seemed to have abandoned them." USA TODAY
Amazon Reviews
E. Johnson
Martin and Gracia Burnham lived a year of hell with an integrity that I would hope I would have if, God forbid, I ever had to go through a similar circumstance. This book is an encouragement to persevere regardless of the circumstances put in our paths. While I do not know Gracia and never met Martin, I did spend a week with Martin's parents in the Ibaloi tribe (Philippines) back in 1983. Based on my short time with Martin's parents, I can see why Martin was as strong of a person as his wife portrays him as being. I also was part of a work team that helped in the construction of a two-story school building at Aritao, a small missionary village/air base located on the main Philippine island of Luzon that was often mentioned throughout the book because it was home to the Burnhams and their children.
I also want to commend Dean Merrill for helping make this a book that even a 4th grader could understand and follow. I appreciate the "rosters" of the three dozen characters in the front of the book. This is the map for the reader to understand the personalities and backgrounds of the Abu Sayyaf and the hostages. Without this, the book would have been utterly confusing. The reader ought to keep his finger there for quick reference.
Finally, I was tickled to see where Gracia dedicated "In the Presence" to those who prayed for her and Martin during their year-long ordeal. I was one who tried to pray regularly from the time I first heard about the kidnapping. It was ironic for me when I read how Gracia believed that her prayers were almost for naught late in the ordeal. This was probably around the same time (early 2002) that I questioned God about "how much longer do I have to pray" before He would have something happen. The more time that elapsed after the initial kidnapping, the more I began to doubt that either of them would survive, especially because I remembered praying for the three NTM missionaries in South America through many years before finding out that they had been killed.
Thanks, Gracia, for sharing your story and being an encouragement for many Christians. My feeling is, if this humble servant can make it through her ordeal and retain her faith, I can make it through whatever the Lord puts my way!