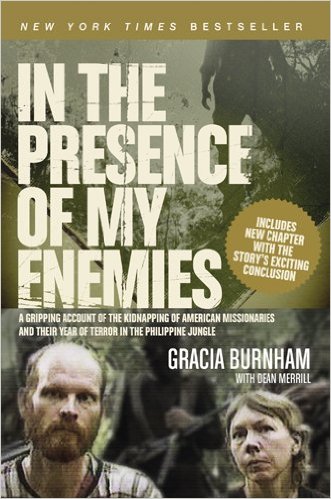 Price: $11.99
Book Details
Summary
For American missionaries Martin and Gracia Burnham, what started out as a relaxing, once-in-a-lifetime anniversary getaway at an exotic island resort turned into one of the most horrific nightmares imaginable.
Kidnapped by the Abu Sayyaf, a terrorist group with ties to Osama bin Laden, the Burnhams were snatched away from friends and family and thrust into a life on the run in the Philippine jungle. During a perilous year in captivity, they faced near starvation, constant exhaustion, frequent gun battles, coldhearted murder—and intense soul-searching about a God who sometimes seemed to have forgotten them.
In this gripping firsthand account of faith, love, and struggle in the face of unnervingly casual brutality, you'll go behind the scenes of a real-life drama, told in gritty detail by the least likely survivor. You'll learn about the methods and motives of a radical terrorist group whose members are determined to meet their objectives, no matter what the cost. You'll be inspired by the ultimately triumphant faith and enduring love of an ordinary couple thrown into extraordinarily difficult circumstances.
Whatever the struggles of your life, you'll find encouragement and hope in this refreshingly honest story of a yearlong struggle with the darkness that inhabits the human heart.
"The issue…is not why an all-powerful God might choose to subject a man to evil, but how a man, with God's help, responds to evil…The Burnhams, under torturous conditions, befriended their guards, comforted their fellow hostages and kept their faith in a God who seemed to have abandoned them." USA TODAY
Amazon Reviews
Clare Chu
This book is hard to put down. Even though I followed the news about Martin and Gracia throughout their ordeal, I wanted to understand what really happened. This book fills in the blanks between the news reports and brings you inside the hearts and feelings of Gracia, Martin, their fellow hostages and even the thinking and philosophy of their captors. It is truly tragic that what began as a hoped for short kidnapping for ransom turned into over a year of captivity for Gracia and Martin (the two that were held the longest). As one by one, the other hostage were either released, killed or ransomed, Martin and Gracia remained behind, holding out to the hope that they would be freed. They were lied to by their captors, and forced to march and slog through miles and miles of jungle terrain, underfed, ill, and chained to trees at night. The captors became increasingly frustrated and greedy, and failed to free them after a significant ransom was paid, spending the money on trivialities, and then running them off again as the demands continued to escalate.
Gracia tells it like it is. There is no sugar-coating her horrifying experience, emotional ups and downs and her own reaction to her captors, as well as the callousness and cruelty of the terrorists. She also captures the human side of the hostages and captors, and the mundane and ordinary moments they all shared together, including a feel humorous moments. They talked about their faiths, Islam, Christianity, and what the requirements of Allah were as contrasted by the mercy of Jesus. At one point, they all agreed that everyone had sinned and needed to be judged. The big difference is who pays for the sins. When Gracia said that Jesus is God who came to earth and paid for her sin, Solaiman (one of the captors) said that he will do his own paying. Later they reflected that he might just get his wish and started praying for their salvation.
How did Gracia get through it all? Through the optimism and support of her husband Martin, who stayed calm, was always there for her, and through their faith in the Lord Jesus. They learned to lean on God, their faith was severely tested and tried, but on the day Martin died, he quoted Psalm 100 and vowed to serve the Lord with gladness. Even though sick and emaciated, Martin carried a huge load of provisions, including mortar shells without complaining. Gracia was filled with compassion for an injured teenage soldier who was earlier throwing rocks at her that she washed out his soiled underwear when he could only lay there moaning. Such is true service to the Lord, even to their enemies. Throughout their ordeal, they learned that God's grace is sufficient, His strength is made perfect in their weakness and that the power of Christ rests in them. Otherwise there was no way they could have put one foot in front of another, leaning on, serving and glorifying Him throughout their entire ordeal.