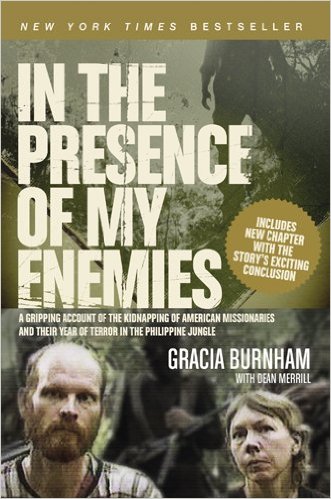 Price: $11.99
Book Details
Summary
For American missionaries Martin and Gracia Burnham, what started out as a relaxing, once-in-a-lifetime anniversary getaway at an exotic island resort turned into one of the most horrific nightmares imaginable.
Kidnapped by the Abu Sayyaf, a terrorist group with ties to Osama bin Laden, the Burnhams were snatched away from friends and family and thrust into a life on the run in the Philippine jungle. During a perilous year in captivity, they faced near starvation, constant exhaustion, frequent gun battles, coldhearted murder—and intense soul-searching about a God who sometimes seemed to have forgotten them.
In this gripping firsthand account of faith, love, and struggle in the face of unnervingly casual brutality, you'll go behind the scenes of a real-life drama, told in gritty detail by the least likely survivor. You'll learn about the methods and motives of a radical terrorist group whose members are determined to meet their objectives, no matter what the cost. You'll be inspired by the ultimately triumphant faith and enduring love of an ordinary couple thrown into extraordinarily difficult circumstances.
Whatever the struggles of your life, you'll find encouragement and hope in this refreshingly honest story of a yearlong struggle with the darkness that inhabits the human heart.
"The issue…is not why an all-powerful God might choose to subject a man to evil, but how a man, with God's help, responds to evil…The Burnhams, under torturous conditions, befriended their guards, comforted their fellow hostages and kept their faith in a God who seemed to have abandoned them." USA TODAY
Amazon Reviews
mattiesmotors
I liked this book. True stories are great and this one was recent. Being christian, I could relate to the spiritual struggles this couple went through. It has some valuable advice about how to handle trials. The author is spunky and bold and reminded me of my own mother and how she might feel and behave in a similar situation. This book also defines the importance of a good marrital relationship and how it can get you through tough times. It was interesting to see how they helped one another to refocus on christian values when it would be easy for both to be filled with anger toward God and their captors. The author is surprisingly non-judgemental and as she learnes how the Abu Sayyaf think according to their beliefs, she mearly makes note of it. There were several times near the end of the book when I wished I had a highlighter to highlight some of her reflections on the experience.