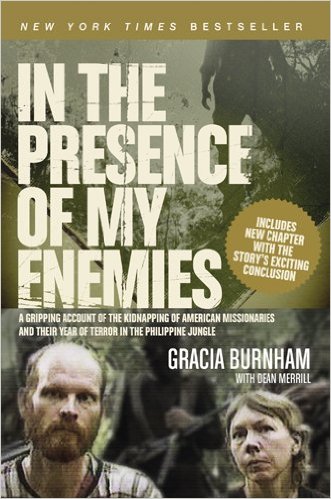 Price: $11.99
Book Details
Summary
For American missionaries Martin and Gracia Burnham, what started out as a relaxing, once-in-a-lifetime anniversary getaway at an exotic island resort turned into one of the most horrific nightmares imaginable.
Kidnapped by the Abu Sayyaf, a terrorist group with ties to Osama bin Laden, the Burnhams were snatched away from friends and family and thrust into a life on the run in the Philippine jungle. During a perilous year in captivity, they faced near starvation, constant exhaustion, frequent gun battles, coldhearted murder—and intense soul-searching about a God who sometimes seemed to have forgotten them.
In this gripping firsthand account of faith, love, and struggle in the face of unnervingly casual brutality, you'll go behind the scenes of a real-life drama, told in gritty detail by the least likely survivor. You'll learn about the methods and motives of a radical terrorist group whose members are determined to meet their objectives, no matter what the cost. You'll be inspired by the ultimately triumphant faith and enduring love of an ordinary couple thrown into extraordinarily difficult circumstances.
Whatever the struggles of your life, you'll find encouragement and hope in this refreshingly honest story of a yearlong struggle with the darkness that inhabits the human heart.
"The issue…is not why an all-powerful God might choose to subject a man to evil, but how a man, with God's help, responds to evil…The Burnhams, under torturous conditions, befriended their guards, comforted their fellow hostages and kept their faith in a God who seemed to have abandoned them." USA TODAY
Amazon Reviews
David Hanson
Reading this book, the reader continually finds himself wondering why the Burnhams had to go through this. Why would God let this happen to them? So much pain, suffering, hardship, and heartache put on two people who had already given so much for his service.
I think this book is the answer though. This story is why they had to endure so much. Gracia's testimony is unlike anything I have ever read or heard in my life. Even having heard her story before, and being a Christian myself, this story moved me in a way I did not expect at all. The final chapter of the book almost brought me to tears several times (something that rarely happens to me).
Gracia's mood is perfectly balanced for telling the story–she is neither perfectly pious, nor condemming of her enemies. Her and Martin's faith and love are an amazing testament to their conviction, and they demostrate such spiritual strength!
I think the book is both wonderful in it's capacity as telling as story, and as delivering a lesson on Christian love. It is a wonderfully fitting tribute, also, to Martin's life as a spiritual leader both before and after his capture.
I'll finish with Gracia's own words, about Martin's death, as I think they wonderfully sum up the general mood of the book:
"I reminded myself that just like the other good-byes in my lifetime, this was temporary. I can't wait to see Martin again–and I will."